Yesterday I had a learning experience removing the rear axle housing to replace an o-ring, boot, clean and paint the housing, and clean/paint the springs and cups.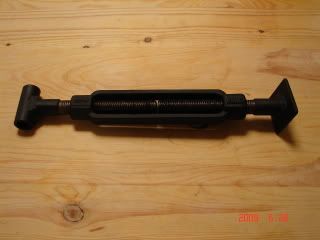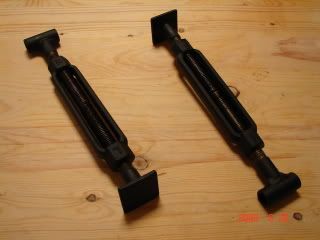 I came up with a tool to remove the housing, which worked OK, except the front one tended to hit the forward body support and creep up the differential case. I made it out of a 3/4 turnbuckle from Fastenal, a square washer from Lowes, and tubing from an OEM shock.
The extraction tools in position, just be sure to remove the 27mm bolt in the center of the housing first, this holds everything together.
The springs come out easy, no spring compressor required, just lower the axle and remove the lower support pins with a 22 mm. I used Liquid Wrench on the brake line, lower support pins, and clamp nuts a week earlier. I used Anti-Sieze on everything except the 27 mm bolt during re-assembly.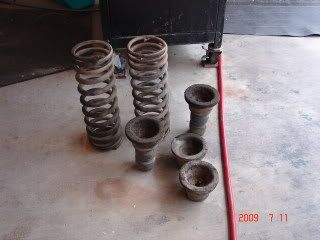 The springs and cups before a good cleaning and paint.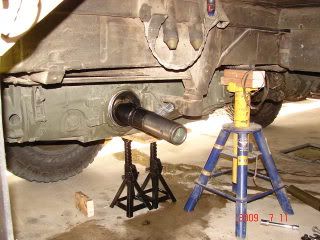 Ready for re-installation. The repair manual says that basically 'installation is the opposite of removal', which sounds easy. I installed a wedge which widened the housing slightly, but getting the unit back in completely was nearly impossible, as the removal tool does not work in reverse. The o-ring at the end of the housing is about $3.
I managed to get it back together with persistance and a pry bar (NO hammering), but maybe Jim or Scott has a better method on how to accomplish this task? It was like trying to put the Genie back into the bottle!